Just some more news about the land of the "FREE"! How long Oh, Lord? Marantha!!!!
'I Am NOT Ashamed of the Gospel of Christ!'
My Comment:  What in the world has happened to our country?  It's turned upside down and inside out.  Sounds a little like Van Jones 'Top down, bottom up.'  HELLO!  These are our leaders?  How embarrassing for America.  This evil that has been unleashed on our Capitol, is very dark.  They arrest our Veterans for protesting at the Veterans Memorial, but allow this, and our leaders feel they have to break laws to show support to  those who break our laws to enter the country.  God help us.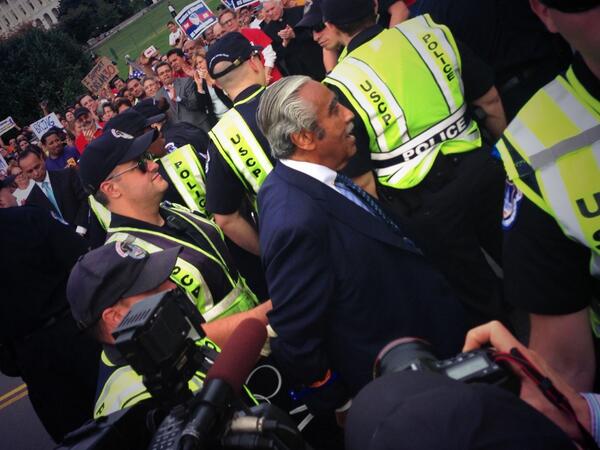 Eight members of Congress were arrested during a Tuesday immigration rally on Washington, D.C.'s National Mall.
Several House Democrats sat in the middle of Independence Avenue and blocked rush hour traffic, according to the Star Tribune.
The representatives, Rep. Keith Ellison (D-MN), Rep. John Lewis (D-GA), Rep. Raul Grijalva (D-AZ), Rep. Joseph Crowley (D-NY), Rep. Al Green (D-TX), Rep. Luis Gutierrez (D-IL), Rep…
View original post 159 more words